! After the header information comes the body of the document, set> <! off by BODY ... /BODY.>

<! Hn is used to indicate a header line of level n in the document.> <! n may be from 1 to 6, with 1 being the largest.>
Pamela Brown, Flautist
---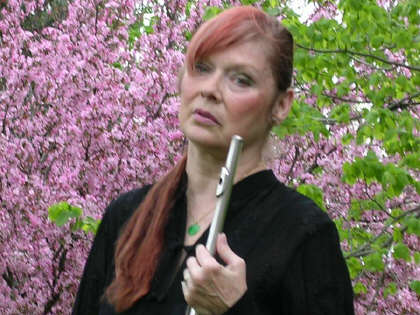 How can one describe a mysterious musical energy without it sounding trite or implausible? It is not easy to find the words. But lets try again, in hopes that this time the right words will come. Wait -- Mozart has already given them to us in his opera, "Thy magic tones shall speak for me, and bear my message, Thou all cares of heart canst banish, And hate and wrong before thee vanish!"
Most people think they know just about everything there is to know about Wolfgang Mozart. Thousands of books and tens of thousands of articles have been written about him. We tend to believe there is nothing new to be written. We tend to take Mozart for granted, as the person we perceive him to be, and are comfortable in our assumptions. We know he produced an enormous amount of work in a short period of time, and that his genius in music was without limit. We also believe that he was somewhat a failure as a person -- arrogant, frivolous, financially irresponsible, and not much of a Christian. Some of us think he died too young; others think he lived long enough.
But there is another dimension about Mozart that virtually nobody discusses though we all take this for granted as well -- it is the calming and positive effect his music has on all of us. Have we stopped to ask why Mozart's music seems to have a peculiar voice that no other composer's music even begins to emulate? Even known Christian musicians such as Bach and Handel have not been credited with the level of centering and nurturing that Mozart's music has. Why is this? What if the sound of an instrument carried with it the same exquisite brilliance? Because Mozart was given a unique aspect to his gifts. He was also given a gift of a special energy,
However, there may have been another aspect to the energy of Mozart's music -- one that has not yet been defined. Mozart has been accused of having trouble getting along with people such as his father and his employers in the Catholic Church, to name a few. The truth may be that this same energy that worked toward health and calm could also cause disruption and distress, and that Mozart unwittingly may have contributed to his own increasingly difficult circumstances by not realizing this. In addition, Mozart's family was virtually destroyed prior to his own death -- his Mother died in Paris, where they were looking for a position for him at court. His father blamed Wolfgang for her death. Leopold was unable to let go of Wolf, and make unrealistic demands on him, such as that he not leave Salzburg and not marry. Of course, Wolfgang did not submit to them. Leopold soon died too, frustrated and lonely. Wolf and his sister Nannerl became increasingly estranged, to the point that Wolf was almost disinherited from his Father's estate and had to beg for his small share from his sister, as well as a number of his compositions which had also, somehow, ended up in her possession. So, we can well ask, if Mozart's music had a unique energy, what did it represent? Mozart died a few months after the debut of his opera Die Zauberflote -- the Magic Flute. The opera was very well received, and he appreciated its success. The opera was, however, quite controversial. The libretto was criticized as being disjointed and childish, yet within its story he was able to develop concepts and ideas profound in their genius and wisdom. Greatest of these was the concept of the magic flute itself -- a sound so lovely and pure that it stopped evil in its tracks. The magic flute rescues Pamina from her evil mother and protects her against the wicked Monostatos. It works to unite her with Tamino, and keep them safe through trials that even threatened their lives. The gentle goodness of the magic flute brought them all to victory. Except, it would seem, for Mozart himself.
But did Mozart die in failure, or in victory? Did his special gift of energy contribute to his early death? Did the opera enrage the Masons? And over all of this, was God watching? Did He have another plan in mind? What if the death of Mozart was not the end, but a beginning? What if his dying before his time was not in vain but a sacrifice? What if what followed his death is, if possible, almost as extraordinary as his life? Was Mozart in fact a prophet with visions of the future that are now coming to pass?
What if God allowed Mozart to leave a legacy far beyond the multitude of compositions of genius?
What if?
Is this the real Magic Flute that Mozart talked about in his opera? Is the opera unfolding in real life in the middle of this country in a state whose name is very close to "Monostatos"? Is this, in fact, the reason the Minneapolis Symphony Orchestra changed its name to the Minnesota Orchestra? Why did members of the Orchestra call Ms Brown "the most exciting musician since Mozart," and her playing as "the real magic flute" and then run away?
Why not watch for yourself?
If you'd like to learn more about my ideas and see some photos I took in Saltzburg and Paris of places related to Mozart and his family, as well as about "Piper to the Alternative", a mystery novel about Mozart, visit the Wolfgang Mozart page; for photographs and documents relating to the Presidential Limousine in which President Kennedy was riding on 11/22/63 visit JFK Assassination Presidential Limousine SS-100-X.
---
Visit the Twin Cities Musicians Union web page.
---
Email me for local performance information, rates, demo tape and ensemble requests, as well as requests for lessons. You can phone me at

952 934-4777.